Municipal Fleet & Asset Management
Exceptional Municipal Fleet Management & Reporting Starts with Eagle Eye Tracking Software!
Eagle Eye 2.0 is a fleet and field service tracking software system that simplifies and supports paperless dispatch, billing and business processes, route optimizing and scheduling, geofencing, reporting, GPS tracking, fleet management and data analytics.
Accuracy & efficiency in the reporting of fleet operations & mobile workforce management is a necessity for municipalities.  Our web-based, GPS tracking software platform offers mobile workforce managers and municipalities a unique and exclusive method to better optimize and manage their fleet operations. Via its user-friendly, on-line, project management dashboard, municipalities are able to schedule optimized routes, provide paperless dispatch, gauge productivity, track and report daily utilization of field operators, trucks and equipment, communicate with contractors, and manage operations with ease.
The service verification dashboard is an advantageous tool in every step of the fleet management journey, as it inherently generates transparency. Providing corresponding information and reporting between municipalities and contractors working with the city or state, or, internally, to track its own employees progress. In addition, it inventories streets and highways contracted to be serviced, schedules jobs, allows for reporting issues and feedback from operators in the field, and provides for approving sections completed, thus creating efficiency in invoice processing. Also, utilize the service verification report in the spec of the work to prove what was completed and thereby optimize efficiency in your fleet operations.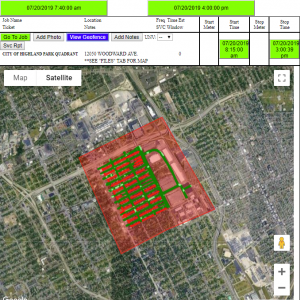 Generates transparency between the contractor and municipality.
Software Benefits at a Glance
For Management…
Scheduling Optimized Routes
Tracking and reporting daily equipment utilization.
Paperless process of communication consequently improving efficiency and accuracy.
Ability for operator to see progress from previous 7 days to know what is still to be completed
Ensure all contracted or scheduled curb miles were completed when scheduled.
Provide feed- back from the operator to the operations on issues, or comments regarding the streets.
Provide pictures regarding the activity.
Exception reporting for off job stops or on job stops; analyzing efficiency of work.
Date and time job completed for a given address.
Verify and approve work.
Complete verification from remote-location.
Easy to follow color coding to know when work sites/jobs are completed.
Provides an easier means to approve work and improves efficiency with processing invoices.
Take advantage of our free consultation, on-line video training, and outstanding support network, to experience for yourself the advantages Eagle Eye Tracking software provides as it enhances and transforms your mobile workforce management and fleet operations!
Our fleet and mobile workforce management software will optimize business operations for other field service industries such as snow removal, lawn care and landscaping, street sweeping, plumbing, pest control, as well as for alarm and security.
Built by leaders of the Mobile Workforce Industry!
Contact us for a free consultation and on-line demonstration, with no obligation!