Field Service Performance Reports for Operations & Management
Performance Reports consumes all operational data and stores it for analysis to use in optimizing fleet management.   Generating reporting job by job, which provides documentation to implement best practice management and an instant revenue analysis for each job.  Ultimately creating efficiency and promoting your wheel-based business' growth.
Eagle Eye Tracking software's Performance Reports deliver the critical function of generating specific reporting job by job. Performance Reports provide operations managers with vital analysis to adjust for and maximize job performance efficiency. It promotes driver training based on GPS – Based Geo-fenced job locations including the routes taken to and from one job site to another.
Performance Reports afford management a method of establishing a paperless pathway to clarifying operational transparency via mobile inputs and outputs. Performance Reports recognize and distinguishes productive operative time so management can assure maximum return on equipment investment. Whether a vehicle or equipment is in route to a job, or is idle, or is operating within the perimeter of the job or the parameters of the agreed upon scope of service, Performance Reports consume all the operational data and stores it for analysis to use in optimizing, managing, generating invoices, payrolls, and more.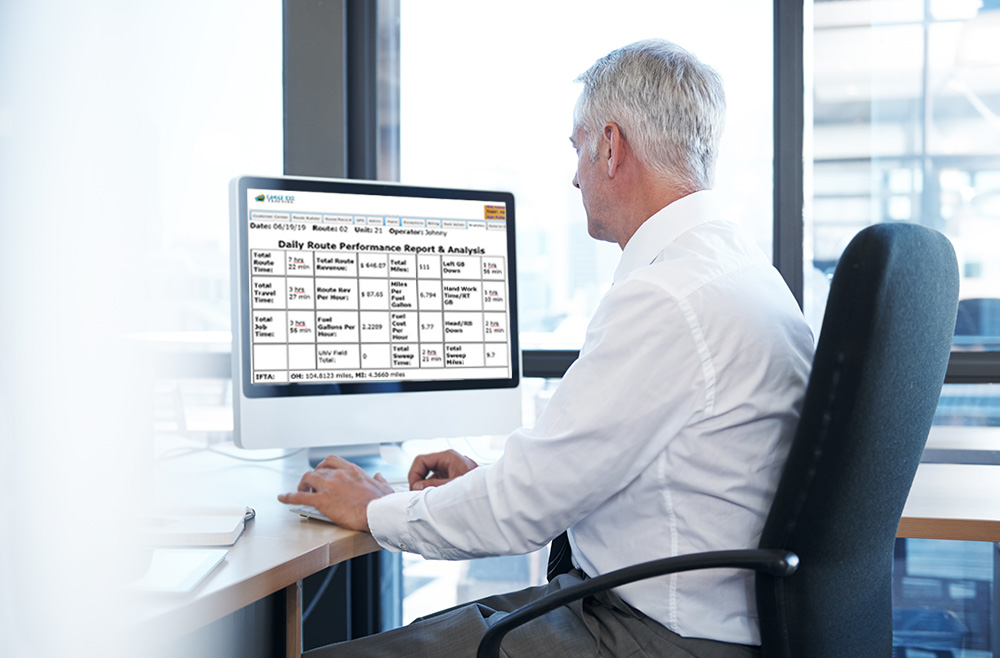 Performance Reports provides fleet asset operations managers with vital reports and an analysis tool to adjust for and maximize job performance efficiency.  It also provides an instant revenue analysis for each job.
Software Benefits at a Glance
For Management…
Effectively provides reporting and documentation to enhance best practice management
Helps maximize and optimize equipment utilization and return on equipment investment by promoting efficient use.
Enables paperless initiative for greater economy and productivity.
Minimizes errors in estimating, invoicing and generating payroll.
Provides instant revenue analysis for each job
For Operators…
Operators are trained with highly detailed job methodology to follow at each job site including getting to and from each location
Detailed job instructions are provided to establish highest degree of effective time use.
Mobile connection reduces paperwork and confusion
For Customers…
Time Tracking extends Eagle Eye's commitment to providing customers the best service, technologies and efficiencies
From the sale through job performance, invoicing and service after the sale, customers are treated with the utmost respect and courtesy
Universal Eagle Eye Tracking Software Advantages
Eagle Eye 2.0 is a web based, mobile friendly business enterprise software system that integrates job and optimized route scheduling, billing and numerous business reporting processes into a single operating platform.
Dynamic customer and job management
Drag and drop job scheduling and optimized route building
Route dispatch to any smart device with job and driving instructions
Eagle Eye's integrated GPS fleet tracking, auto tracks routes and job productivity
Monitor job performance efficiently and accurately
Improve equipment utilization
Process Gate-to-Gate™ payroll for improved efficiency
Document delivery of services for your customers
Provide service verification access portal to select customers
Create customizable service proposals and flexible field service reports
Improves intra company communication
Empowers management for business growth
Mobile friendly from anywhere in the world!
With Eagle Eye Tracking software, you now have the ability to monitor and control your business and fleet operations at the click of a button.
Contact Us today to learn more about Eagle Eye Tracking Software!
If you're ready to make the necessary changes to improve and grow your business, contact us now or call 1-855-EETRACK (338-7225)