Web Based Route Builder Software
The Route Builder tool allows you to optimize and change routes in real-time, and instantly dispatch route modifications to an employee in the field via their smart device. It provides a clear vision and solution to manage your wheel-based fleet, jobs, and routes.  Transforming misfortunes from chaos to calm.
Spending hours on manually inputting duplicate customer and job data into multiple independent systems for route optimizing and building, revenue rate analysis, time management reports and billing is now a thing of the past. Use Eagle Eye to automatically post job times  by route, vehicle, or driver.
We have all had to deal with scheduling service events, creating routes to schedule the work, printing route sheets or work orders, and looking up directions. Add in the occasional and stressful chaos of rescheduling jobs due to unforeseen disruptions in available manpower or equipment plus the inevitable customer service request changes, and things can get rather dicey. Route Builder not only allows dynamic interactive changes, but it transforms misfortunes from chaos to calm.
Add Eagle Eye optional GPS truck tracking integration and you can see exactly where your drivers are, where they might face problems and where they've been. In Route Builder you can change routes on the fly and drivers can be notified instantly, via their mobile devices. Route Builder gives you a clear vision and an easy tool to manage your fleet, jobs and routes.
Interactively re-assign a single job or multiple jobs easily without disrupting future scheduling. Edit job billing information for a one-time event without affecting future recurring events, and even instantly dispatch route modifications to an employee in the field on their smart device – complete with detailed scope of work instructions and audible map- based directions to the job site. And don't worry, you can still print it on paper.
Utilizing Eagle Eye's GPS tracking software and the coordinated cell phone app allows you to always keep track of your team's job times through sophisticated dispatched routes to a smart device. With the ability to track drivers' time while they're on the road or at a job site, your entire team becomes more efficient. The app notifies drivers in real time if their route is changed.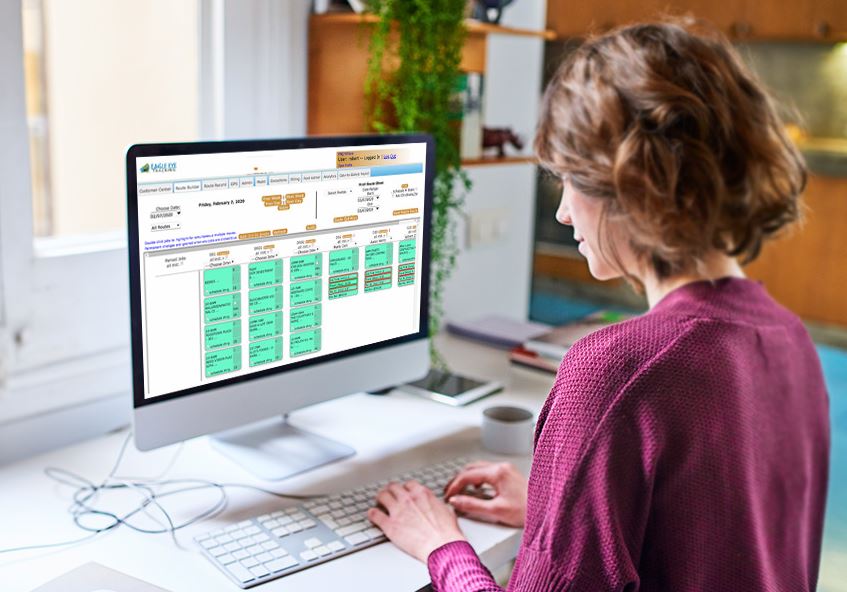 Interactively re-assign a single job or multiple jobs easily without disrupting future scheduling, then instantly dispatch route modifications to an employee.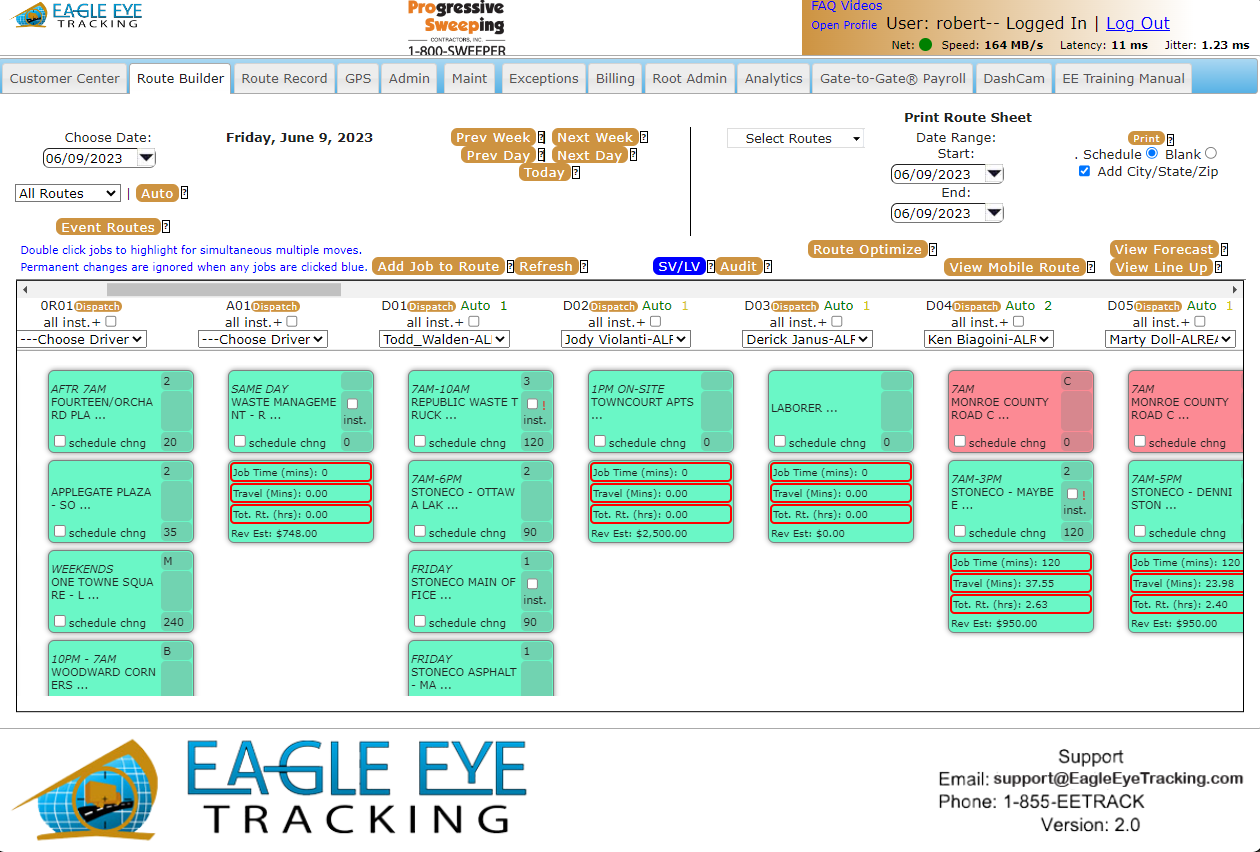 Software Benefits at a Glance
For Management…
Automatically posts job times by route, vehicle and driver
Disruptions can be seamlessly dealt with to maintain work flow
Manage from anywhere in the world with web based access and the ability to reroute or reassign jobs, vehicles or drivers
For Operators…
Routes are clearly defined with audible driving directions
Clarity in job instructions leaves nothing to guess about
For Customers…
Customer jobs are handled effectively and routinely eliminating service disruptions.
Timely and accurately account invoicing with every detail desired
Browse our Route Builder video tutorial, and learn more
Universal Eagle Eye Tracking Software Advantages
Eagle Eye 2.0 is a web based, mobile friendly business enterprise software system that integrates job and route scheduling, billing and numerous business reporting processes into a single operating platform.
Dynamic customer and job management
Drag and drop job scheduling and route building
Route dispatch to any smart device with job and driving instructions
Eagle Eye's integrated GPS fleet tracking, auto tracks routes and job productivity
Monitor job performance efficiently and accurately
Improve equipment utilization
Process Gate-to-Gate™ payroll for improved efficiency
Document delivery of services for your customers
Provide service verification access portal to select customers
Create customizable service proposals and flexible field service reports
Improves intra company communication
Empowers management for business growth
Mobile friendly from anywhere in the world!
With Eagle Eye Tracking Software, you now have the ability to monitor and control your business and fleet operations at the click of a button.
Contact Us today to learn more about Eagle Eye Tracking Software!
If you're ready to make the necessary changes to improve and grow your business, contact us now or call 1-855-EETRACK (338-7225)
Explore 60 Days of Free Trial
with Complete Experience
No Commitment. No Obligations. Completely Free.
Power Sweeping:
Transform the way streets are cleaned with Eagle Eye Tracking. Our innovative system streamlines route planning, schedules, and maintenance, guaranteeing efficient and timely sweeping operations. Say goodbye to messy streets and hello to a cleaner, safer environment for your community!
Plumbing:
Looking for an easier way to manage your plumbing services? Look no further than Eagle Eye Tracking! Our real-time tracking system makes scheduling and responding to service calls seamless and hassle-free. Say goodbye to delays and missed appointments – try Eagle Eye Tracking today.
Snow Removal:
Looking for a reliable solution to conquer winter challenges? Eagle Eye Tracking has got you covered! Our advanced system offers top-notch route planning and monitoring, ensuring fast and efficient snow removal operations. Say goodbye to the stress and hassle of winter weather with our cutting-edge technology. Let us help you tackle winter with confidence and peace of mind.
Lawn Care/Landscaping:
Transform your lawn care and landscaping business with Eagle Eye Tracking. Our advanced solution simplifies crew and asset management, ensuring timely and efficient service delivery that exceeds customer expectations. With our technology, elevate your efficiency and customer satisfaction to new heights.
Mobile-based Security:
Experience the ultimate level of security with Eagle Eye Tracking's advanced real-time monitoring and optimized patrol routes. Enjoy a safer and more secure environment with ease.
Municipal:
Discover the ultimate solution for managing municipal services with Eagle Eye Tracking! Our advanced system boasts powerful tracking and scheduling features to simplify operations for cities and municipalities.
Pest Control:
Upgrade your pest management to a whole new level of excellence with Eagle Eye Tracking. Our exceptional service delivery will leave you worry-free and your environment pest-free.
Commercial Towing:
 Achieve optimal towing operations with ease using Eagle Eye Tracking's state-of-the-art real-time tracking and route optimization service.
Ready Mix Concrete:
Revolutionize your ready-mix concrete delivery with the powerful and dependable Eagle Eye Tracking system. Experience a new level of efficiency and reliability that will transform the way you do business.
Waste Hauling
Optimize your waste-hauling operations with Eagle Eye Tracking. Streamline routes and schedules, reduce costs and ensure timely collections. Say goodbye to inefficiencies and hello to reliable and cost-effective waste hauling.