Ready to Transform Your Business and Your Life?
An Enterprise Software System that is Dynamic & Fluid!
Optimized Scheduling, Routing, & Dispatching of your Fleet & Wheel-Based Workforce.
Pricing Plans Tailored to Meet Your Needs
Software that will Grow with You & Grow Your Business!
Software created by business owners who were once in your shoes and understood the problems of managing a wheel-based fleet.
We get it. We provide solutions!
Maximize efficency and savings, and control. Manage your wheel-based service business, remote employees, and equipment with a simple click!
Explore 60 Days of Free Trial!
No Obligations. No commitment. Completely Free.
Manage unilimited # of customers
Job work order center
(unlimited #)
Route builder with drag and drop feature
Job/Route dispatch w/Drive Directions
Smart Device/Job Time & Instructions
Capture/Save On-Job Pics & Documents
Billing Review/Edit By Job & Customer
Billing Export Compatible With Quickbooks
Flexible Operation Analysis Feature
Driver Arrival Text Notification at the customer location
View Routes and Jobs Performed
View Real Time Vehicle Location
Route and Job Exception Reports
Customer API Service Verification Access
Onboard Event Tracking Capture
Secure Access and Storage
Multi User Permissions and Restrictions
Daily Back-ups, Real time Data Replication
Rolling 12 month Historical Data Storage
Launch Advisor to Help You Get Started*
Weekly Scheduled Phone Support
Unlimited Online Video Training
$+30
per month (per vehicle)
Premium GPS (integration)
$+35
per month (per vehicle)
Optional Available Software Features: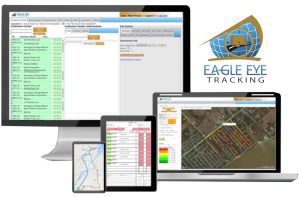 App Messaging Capability: $25.00/M
Fleetio Vehicle Maintenance Integration: $1.95/M/V
IFTA Reporting: $1.95/M/R
Customer API Service Verification Access: $2.95/M/R
Gate-to-Gate Payroll Report: $4.95/M/R
Additional Storage/12 Month Increments: $0.49/M/R
Customizable KPIs: (Quoted)
Basic Plan Details – Four user access, 5 routes/24hr period. $99.00/M/R for each additional route. No additional StartUp features are available and no Optional Available Features can be added. Adding GPS integration includes the Enhanced Reporting Features.
StartUp Plan Details – Four users, 10 routes/24hr period. $14.95/M/R for each additional route with 2 additional users with every 1-5 additional routes purchased in 5 route increments. A 5% per route discount applies after 15 routes with an additional 1% for each 5 routes thereafter to a 25% maximum.
GPS Integrations – Rates based on a 3-year service agreement with $5/M/V applied toward the lease of the onboard fleet tracking GPS data collector device. Service terms less than 3 years will amortize the lease fee proportionately. A defective device will be replaced at no additional cost upon return of the original device. Failure to return a GPS device for replacement, or upon termination of service, will result in a $200 fee per device. Addition fees apply for purchase of the seat switch and chassis diagnostics harness. Four (4) onboard events are included with Premium GPS. Additional onboard events, up to six (6) maximum will be assessed at $1.50/M/V each. Enterprise system must be in use to activate GPS integration.
Flexible Operational Analysis Examples: Revenue analysis per hour or total – queried by any combination of vehicle class, vehicle number, job class, billing class, driver, route, service description or state for any date range from a single day, single month, month-to-date or year-to-date with export capability.
Fuel analysis by gallons or cost per hour or mile – queried by vehicle class, vehicle number or fleet for any date range from a single day, single month, month-to-date or year-to-date with export capability.
Job Performance Report includes date range query by driver.
Keys:
M = month
V = vehicle
R = route
*Launch Support is free for the registered users at implementation. New users will be trained for an hourly fee.
Maximize efficiency and savings, minimize time and costs!
Perhaps at this point in your business, you are only looking to optimize your wheel-based workforce and fleet's scheduling, routing, and dispatch, using a paperless approach, while improving communications and efficiencies amongst your mobile workforce.  Eagle Eye Tracking will do these things efficiently and seamlessly.
Or perhaps you are looking for a software system that will accomplish those things and much more:  GPS tracking, monitoring of job performance, documenting delivery of services, billing, analytics, job costing, and Gate-to-Gate® payroll.   Eagle Eye Tracking is a business enterprise software system that is dynamic and fluid.  It will grow with you and grow your business!
Eagle Eye Tracking Software was created and developed by business owners, who were once in your shoes, and understand the pain points and challenges encountered when managing the operations of a mobile workforce and wheel-based fleet. We get it, and we provide the solution.
Ready to transform both your business and your life?
Eagle Eye Tracking Software Advantages
Dynamic customer and job management
Drag and drop job scheduling and optimized route building
Route dispatch to any smart device with job and driving instructions
Integrated GPS fleet tracking, auto tracks routes and job productivity
Monitor job performance efficiently and accurately
Improve equipment utilization
Process Gate-to-Gate® payroll for improved efficiency
Document delivery of services for your customers
Provide service verification access portal to select customers
Create customizable service proposals and flexible field service reports
Improves intra company communication
Empowers management for business growth
Mobile friendly from anywhere in the world!
Eagle Eye Tracking enterprise software allows you to monitor and control your wheel-based service business, of remote employees and equipment, at the click of a button.